---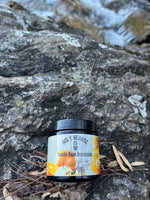 This is a poured beard butter. This Beard butter is made with moisturizing oils to soften the beard. 
Suggested use: can be applied any time of day for moisturizing. Recommend to use two hours before bedtime. Scoop out small amount, rub in palm to melt oils, apply throughout beard.
Contains Shea butter, Argan oil, sunflower oil, hemp seed oil, black Jamaican castor oil, essential oils.
We do not make any claims that this product will work for you. Use at your own risk. Do not use if you have any allergies or skin sensitivities to any oils or essential oils. This product is intended for a man's beard. Do not use product out of intended use. Do not ingest. Keep out of the reach of children and pets.