---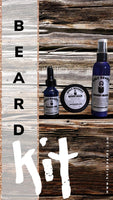 Kit includes: (1) 4 oz. beard wash (1) 1 oz. beard oil (1) 2 oz. beard balm
Beard wash: soap base with purified water, organic coconut oil, potassium hydroxide, organic olive oil, organic castor seed oil, organic argon oil, organic jojoba seed oil, organic hemp seed oil, organic vegetable glycerin, 100% pure essential oil
Beard oil: Vitamin E oil, soybean oil, grape seed oil, coconut oil, castor oil, sunflower seed oil, olive oil, sweet almond oil, jojoba oil, 100% pure essential oils.
Beard balm: Shea butter, coconut oil, beeswax, jojoba oil, 100% essential oils.
 SCENTS: Made with 100% pure essential oils except for Barbershop and Cherry Almond which are made from phthalate-free fragrance oils.
Original: Cedarwood, Cypress, Sandalwood, Orange (Balm), Cedarwood, Cypress, Peppermint (Oil), Orange (Wash) ***scent change on wash***
Citrus Cream Soda: Orange, lemon, grapefruit, mandarin, bergamot, tangerine, clementine, vanilla
Outlaw: Patchouli, sweet orange, copaiba, bergamot, sandalwood, tobacco, osmanthus, pink pepper, lavandin, galbanum CO2, vanilla CO2
Fire Ball: Cinnamon  ****DO NOT GET INTO EYES***
Vanilla Sandalwood: Myrrh, sandalwood, vanilla, magnolia, sandalwood Hawaiian  
Coffee: Coffee; smells like a coffee shop
Barbershop: This is made with a fragrance oil. Scent will remind you of a barbershop.
Cherry Almond: This is made with a fragrance oil. Scent has more cherry notes.
Date Night:  notes of bergamot, leather, lavender, geranium, cypress, and sandalwood. It finishes with notes of suede, spiced musk, and
We do not make any claims that this product will work for you. Use at your own risk. Do not use if you have any allergies or skin sensitivities to any oils or essential oils. This product is intended for a man's beard. Do not use product out of intended use. Do not ingest. Keep out of the reach of children and pets.